BRAND CONCEPT etc.insidious4 graphic designer-Yutaroh Higashi selling t-shirts made the final.

DESIGNERinsidious4

H Phttp://insidious4.art.coocan.jp/
BLOGhttp://insidious4.cocolog-nifty.com/
TWITTERhttp://twitter.com/insidious4
FACEBOOKhttp://www.facebook.com/yutaroh.higashi
PROFILE---
Activities of insidious4
| Total 2 / Now showing 1 - 10 |
Event info.
2322days ago

2012-09-12 02:38:36Weekend 9 / 16 2012 @ Saitama whirling (Sunday) is exhibiting at the stadium art market. In addition to t-shirts and postcards, and sells cast artists VARELSER band t-shirts. Thank you in advance.

http://www.gurugurumawaru.net/
Good!
3

people said

Good! .
Tweets
2372days ago
2012-07-24 12:41:46Solo exhibition has ended successfully.
Thank you very much.
Look at how the exhibition in pictures blog.

http://insidious4.cocolog-nifty.com/
Good!
6

people said

Good! .


Guest × 6
Designer's Recommendations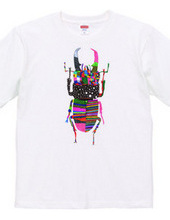 Popular Products BEST 5