Screen display
Header Menu

Switching language button
Exclusive page links / Shopping cart
(From left to right )
New user registration button You can register a new user here.
My Page (for all users) You can go to your "My page" from here. You can change your registration information and confirm your orders here.
Designer Page If you are a designer on Hoimi you can go to your "Designer's exclusive page" here.
Shopping Cart The quantity of items that are added to the cart is displayed here. Upon clicking you are brought to the accounting page.
Displaying user / Login
Left Menu
Search
Competition list
Select by item types
Select by design categories
Select by item colors
Bottom Menu
Checked items
Bookmarked items
Sub-menu area
(From left to right )
Category page
Category title
The number of items in this category are displayed.
Sorting items
(From left to right )
Total You can sort items by comprehensively judging the sales results and popularity.
Newly You can sort items by newest.
Popularity You can sort by items that are marked "Good!".
Switch pages
Refine search
1

Refine by item types The item types that you checked are displayed.

2

Refine by size The items that include the size that you checked are displayed.

3

Refine by color Items that include the color that you checked are displayed.

4

Refine by prices Items that belong to the price range that you checked are displayed.

5

Refine by keywords Items that include keywords that you entered are displayed. You can specify which search keywords are input.

6

Clear button If you want to clear all refinements please click here.
Product display area
1

Various icons Display by icons such as Popular-icon, Recommend-icon, and Competition winner-icon etc.

2

Data Item name, brand name, price, etc. are displayed.

3

Reverse / Bookmark For double sided printing designs the reverse-icon is displayed. When you click this you can see the designs other side.
If you click the Bookmark icon you can Bookmark this item.

4

Colors variation The colors variation of the item are displayed. When you click on any color you can switch the T-shirts color.

5

Item types variation The types of variations of the item are displayed. You can switch the price and type by selecting.
Product Details page
Product name / Brand / Tag
Product detail photo
The button that opens and closes the "Good!" area.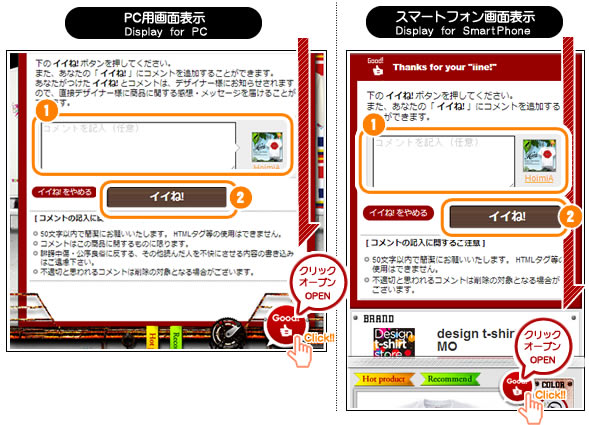 1

Comments entry column Users who have Hoimi accounts can add comments to "Good!".

2

Good! Button By clicking here your "Good!" will be logged.
Bookmark Button
Switching color button
Item type button
Design data display
Item data display
Request button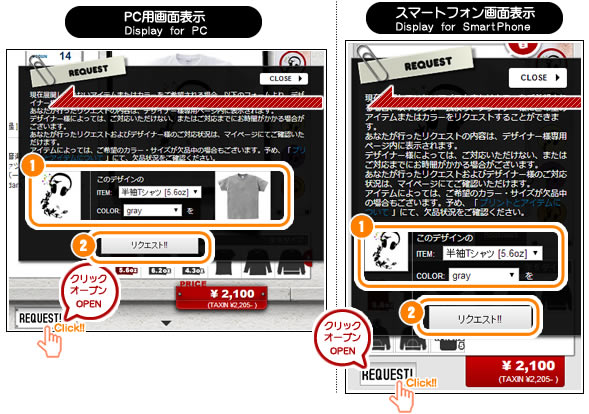 1

Request item selection Please select the item and color you want to request.

2

Request button By clicking here the designer will receive the request.
---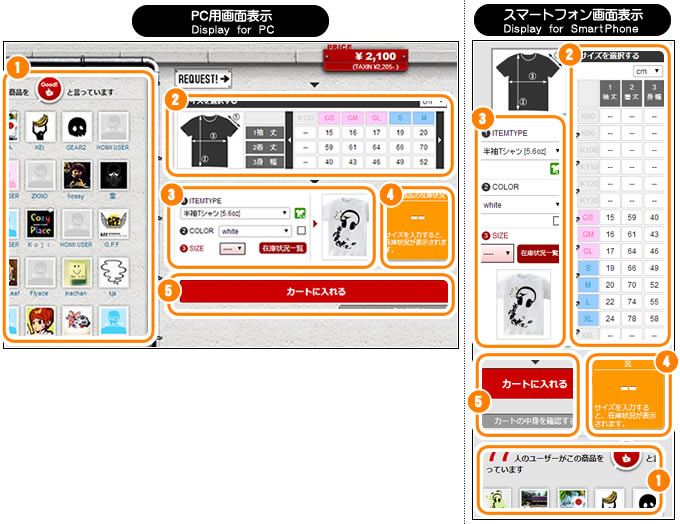 The list of users who have marked this item as being "Good!".
Item size table
Item selection area
Display of the stock status
Add to shopping cart Button